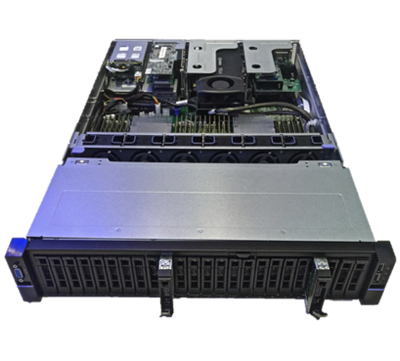 SVR2U24 NVMe Storage Server
Integrating compute with NVMe™ flash storage, the SVR2U24 NVMe Storage Server delivers performance and flexibility for Software-Defined Storage (SDS) infrastructure.
High density – up to 24 NVMe 2.5" SSD modules; capacities ranging 1.6TB to 7.68TB up to 184TB in a 2U enclosure
Flexible – 3 CPU Choices – Entry-Level, Mid-Range, High-Performance
Expandable – 2 PCIe Gen3 x16 slots available for expansion
There is a never-ending need to increase data center performance for storage-intensive applications. The SVR2U24 NVMe Storage Server is designed to be a performance-optimized platform for software defined storage (SDS). By integrating CPUs and NVMe™ SSDs in the same unit, our storage server provides a tested and validated building block for deploying the SDS stack on high-performance storage.
Designed for Fast Data
Flash technology has revolutionized the performance of storage systems; NVMe technology extends flash storage to its full potential. Built upon our storage expertise, the SVR2U24 NVMe Storage Server features the latest Intel® Xeon® CPUs. Chipset, core count and CPU power can be customized, providing the flexibility to meet varying requirements depending on data workload and performance requirements. Whether as a stand-alone file server or part of a scale-out deployment, the SVR2U24 NVMe Storage Server is built to deliver screaming performance in software-defined storage environments. With low latency and consistently high bandwidth, data is accelerated to the speed of flash.
General
Available Capacities
3.20TB/1.60TB, 1.2/1.7 DW/D, Skyhawk
3.84TB/1.92TB, 0.5/0.6 DW/D, Skyhawk
6.4TB 3 DW/D, Ultrastar SN200
7.68TB 1 DW/D, Ultrastar SN200
Power
1+1 1200W, CRPS, 80+ Platinum
200-240V AC Input
Management
IPMI 2.0 system management
Maximum Number of Drives
24 x 2.5" NVMe SSDs
System Memory
256GB DDR4 Installed (8x 32GB DIMMs)
24 DIMM Slots on Motherboard
I/O Expansion
2 PCIe Gen3 x16 and 1 PCIe Gen3 x8 slot
2 USB 3.0
1 VGA, DB15
1 Serial, DB9
Networking
1 OCP 2.0 Mezz. Card, Connector A+C, Type 1
1 Dedicated 1GbE RJ45 for IPMI
LED Indicator
Front: Power, ID, Fault
Drive: Activity, Fault
Serviceability
Hot-swappable power supplies, fans, and SSD modules
Physical Size
Weight (g, max)
Product without SSDs: ~20.5 kg (45.2 lbs)
Product with 24 SSDs: ~24.9 kg (54.9 lbs)
Rack Size Height x Width x Depth mm (in)
Height: 87mm (3.43")
Width: 448mm (17.64")
Depth: 760mm (29.92")
Environmental
Operating Temperature
5 to 35°C
Non-Operating Temperature
-30 to 60°C
Cooling
5+1 60mm fans, hot-swappable
Humidity
-12°C dew point, 5 to 85% relative humidity
Sound Power
< 7.58els @ 23+2°C
Features
Up to 184TB in a 2U unit
2U, 24-bay rack-mounted "Purley" server

- Intel Skylake CPU and Lewisburg PCH

Up to 24 2.5" NVMe SSD modules

- SanDisk® Skyhawk™ 3.84TB/3.2TB/1.92TB/1.6TB
- HGST Ultrastar® SN200 7.68TB/6.4TB

Choice of CPUs to match compute requirements

- Entry-Level: Xeon 5120, 2.2GHz, 14C, 105W
- Mid-Range: Xeon 6140, 2.3GHz, 18C, 140W
- High-Performance: Xeon 8160, 2.1GHz, 24C, 150W

256GB DDR4 DRAM Standard (8x 32GB DIMMs)

- 24 DIMM slots total
- Memory expansion capability

2 SanDisk X400 M.2 SATA SSD for boot (2x 512GB)
Connectivity and Expansion

- 2-port 10GbE included via OCP mezzanine card
- 1-port 1GbE for system management
- 2 PCIe x16 slots available for add-in cards

5-year limited warranty
Applications/Environments
Software-defined storage
Private cloud
Big data server
Data analytics
Data tier for service provider