BACK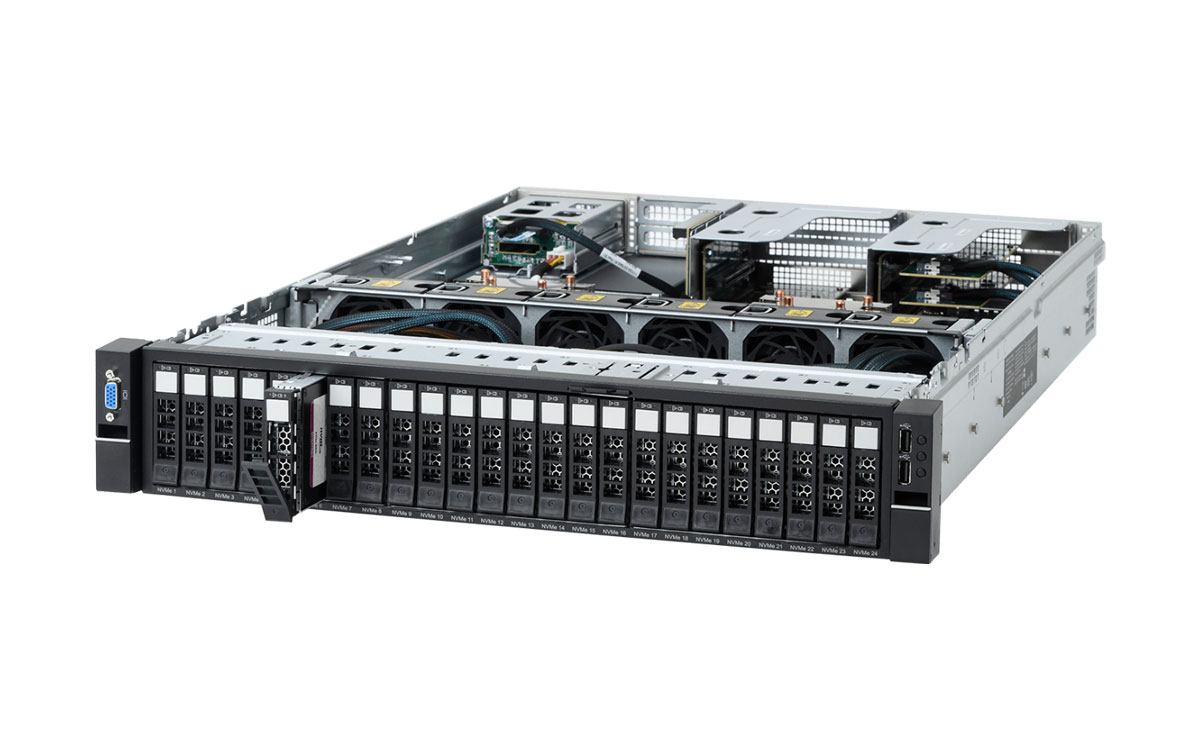 2U24 Flash Storage Platform
Designed for Software-Defined Storage (SDS) systems
High density – Up to 184TB raw capacity in a 2U enclosure
Scalable – Connect up to six hosts via the 12 Gb/s SAS-3 interface
Performance – Up to 4.7M IOPS, 23 GB/s with less than 1ms latency

The 2U24 Flash Storage Platform is a key element of next-generation Software-Defined Storage (SDS) systems. The platform balances high performance with capacity, delivering high IOPS with low latency at up to 184TB capacity.
Designed for Enterprise and Cloud Storage
By decoupling available storage from CPU resources, the platform offers the flexibility to improve the compute-to-capacity ratio. The 2U24 Flash Storage Platform addresses the demanding storage needs of large enterprises and cloud service providers requiring dense, shared flash storage.
Endurance
Read-Intensive, 0.6 DW/D
4KB Random Read IOPS
735,000
4KB Random Write IOPS
312,000
Seq Write BW (MB/s)
4,600
Max. Drives
24 x 2.5" SSDs
Drive Interface
12 GB/s SAS or 6 GB/s SATA
Available SSD Capacities
SAS (1DW/D): 3.84TB, 7.68TB
SATA (0.6DW/D): 960GB, 1.92TB
Host Interface
1+1 I/O Modules (IOM), 3 Mini-SAS HD ports per IOM
Management
SCSI Enclosure Services
LED Indicators
Front/Rear: Power, ID, Fault
Drive: Activity, Fault
Physical Dimensions
Height: 87.4mm (3.44")
Width: 446mm (17.56")
Depth: 536mm (21.1")
Weight
Product without SSDs: 18.3kg (40.3lbs)
Product with 24 SSDs: 23.7kg (52.3lbs)
Power
1+1 600W, 80+ Gold
90-264V AC input, auto ranging, 47-63Hz
Cooling
3 fan modules per power supply, front-to-rear system cooling
Fan speed turning via system management interface
Serviceability
Hot-swappable IOM, power supply and SSDs
Environmental
Operating Temperature: 5 to 40°C
Non-op Temperature: -40 to 60°C
Humidity: 5 to 85% relative humidity
Operating Altitude: 40°C @ 3,000ft
Sound Power: < 7.2Bels @ 23±2°C
Endurance
Read-Intensive, 0.6 DW/D
4KB Random Read IOPS
735,000
4KB Random Write IOPS
312,000
Seq Write BW (MB/s)
4,600
Max. Drives
24 x 2.5" SSDs
Drive Interface
12 GB/s SAS or 6 GB/s SATA
Available SSD Capacities
SAS (1DW/D): 3.84TB, 7.68TB
SATA (0.6DW/D): 960GB, 1.92TB
Host Interface
1+1 I/O Modules (IOM), 3 Mini-SAS HD ports per IOM
Management
SCSI Enclosure Services
LED Indicators
Front/Rear: Power, ID, Fault
Drive: Activity, Fault
Physical Dimensions
Height: 87.4mm (3.44")
Width: 446mm (17.56")
Depth: 536mm (21.1")
Weight
Product without SSDs: 18.3kg (40.3lbs)
Product with 24 SSDs: 23.7kg (52.3lbs)
Power
1+1 600W, 80+ Gold
90-264V AC input, auto ranging, 47-63Hz
Cooling
3 fan modules per power supply, front-to-rear system cooling
Fan speed turning via system management interface
Serviceability
Hot-swappable IOM, power supply and SSDs
Environmental
Operating Temperature: 5 to 40°C
Non-op Temperature: -40 to 60°C
Humidity: 5 to 85% relative humidity
Operating Altitude: 40°C @ 3,000ft
Sound Power: < 7.2Bels @ 23±2°C
Endurance
Read-Intensive, 0.6 DW/D
4KB Random Read IOPS
735,000
4KB Random Write IOPS
312,000
Seq Write BW (MB/s)
4,600
Max. Drives
24 x 2.5" SSDs
Drive Interface
12 GB/s SAS or 6 GB/s SATA
Available SSD Capacities
SAS (1DW/D): 3.84TB, 7.68TB
SATA (0.6DW/D): 960GB, 1.92TB
Host Interface
1+1 I/O Modules (IOM), 3 Mini-SAS HD ports per IOM
Management
SCSI Enclosure Services
LED Indicators
Front/Rear: Power, ID, Fault
Drive: Activity, Fault
Physical Dimensions
Height: 87.4mm (3.44")
Width: 446mm (17.56")
Depth: 536mm (21.1")
Weight
Product without SSDs: 18.3kg (40.3lbs)
Product with 24 SSDs: 23.7kg (52.3lbs)
Power
1+1 600W, 80+ Gold
90-264V AC input, auto ranging, 47-63Hz
Cooling
3 fan modules per power supply, front-to-rear system cooling
Fan speed turning via system management interface
Serviceability
Hot-swappable IOM, power supply and SSDs
Environmental
Operating Temperature: 5 to 40°C
Non-op Temperature: -40 to 60°C
Humidity: 5 to 85% relative humidity
Operating Altitude: 40°C @ 3,000ft
Sound Power: < 7.2Bels @ 23±2°C
Endurance
Read-Intensive, 0.6 DW/D
4KB Random Read IOPS
735,000
4KB Random Write IOPS
312,000
Seq Write BW (MB/s)
4,600
Max. Drives
24 x 2.5" SSDs
Drive Interface
12 GB/s SAS or 6 GB/s SATA
Available SSD Capacities
SAS (1DW/D): 3.84TB, 7.68TB
SATA (0.6DW/D): 960GB, 1.92TB
Host Interface
1+1 I/O Modules (IOM), 3 Mini-SAS HD ports per IOM
Management
SCSI Enclosure Services
LED Indicators
Front/Rear: Power, ID, Fault
Drive: Activity, Fault
Physical Dimensions
Height: 87.4mm (3.44")
Width: 446mm (17.56")
Depth: 536mm (21.1")
Weight
Product without SSDs: 18.3kg (40.3lbs)
Product with 24 SSDs: 23.7kg (52.3lbs)
Power
1+1 600W, 80+ Gold
90-264V AC input, auto ranging, 47-63Hz
Cooling
3 fan modules per power supply, front-to-rear system cooling
Fan speed turning via system management interface
Serviceability
Hot-swappable IOM, power supply and SSDs
Environmental
Operating Temperature: 5 to 40°C
Non-op Temperature: -40 to 60°C
Humidity: 5 to 85% relative humidity
Operating Altitude: 40°C @ 3,000ft
Sound Power: < 7.2Bels @ 23±2°C
Endurance
Read-Intensive, 1 DW/D
4KB Random Read IOPS
3,000,000
4KB Random Write IOPS
336,000
Seq Read BW (MB/s)
21,350
Seq Write BW (MB/s)
12,350
Max. Drives
24 x 2.5" SSDs
Drive Interface
12 GB/s SAS or 6 GB/s SATA
Available SSD Capacities
SAS (1DW/D): 3.84TB, 7.68TB
SATA (0.6DW/D): 960GB, 1.92TB
Host Interface
1+1 I/O Modules (IOM), 3 Mini-SAS HD ports per IOM
Management
SCSI Enclosure Services
LED Indicators
Front/Rear: Power, ID, Fault
Drive: Activity, Fault
Physical Dimensions
Height: 87.4mm (3.44")
Width: 446mm (17.56")
Depth: 536mm (21.1")
Weight
Product without SSDs: 18.3kg (40.3lbs)
Product with 24 SSDs: 23.7kg (52.3lbs)
Power
1+1 600W, 80+ Gold
90-264V AC input, auto ranging, 47-63Hz
Cooling
3 fan modules per power supply, front-to-rear system cooling
Fan speed turning via system management interface
Serviceability
Hot-swappable IOM, power supply and SSDs
Environmental
Operating Temperature: 5 to 40°C
Non-op Temperature: -40 to 60°C
Humidity: 5 to 85% relative humidity
Operating Altitude: 40°C @ 3,000ft
Sound Power: < 7.2Bels @ 23±2°C
Endurance
Read-Intensive, 1 DW/D
4KB Random Read IOPS
4,700,000
4KB Random Write IOPS
672,000
Seq Read BW (MB/s)
23,000
Seq Write BW (MB/s)
23,000
Max. Drives
24 x 2.5" SSDs
Drive Interface
12 GB/s SAS or 6 GB/s SATA
Available SSD Capacities
SAS (1DW/D): 3.84TB, 7.68TB
SATA (0.6DW/D): 960GB, 1.92TB
Host Interface
1+1 I/O Modules (IOM), 3 Mini-SAS HD ports per IOM
Management
SCSI Enclosure Services
LED Indicators
Front/Rear: Power, ID, Fault
Drive: Activity, Fault
Physical Dimensions
Height: 87.4mm (3.44")
Width: 446mm (17.56")
Depth: 536mm (21.1")
Weight
Product without SSDs: 18.3kg (40.3lbs)
Product with 24 SSDs: 23.7kg (52.3lbs)
Power
1+1 600W, 80+ Gold
90-264V AC input, auto ranging, 47-63Hz
Cooling
3 fan modules per power supply, front-to-rear system cooling
Fan speed turning via system management interface
Serviceability
Hot-swappable IOM, power supply and SSDs
Environmental
Operating Temperature: 5 to 40°C
Non-op Temperature: -40 to 60°C
Humidity: 5 to 85% relative humidity
Operating Altitude: 40°C @ 3,000ft
Sound Power: < 7.2Bels @ 23±2°C
Endurance
Read-Intensive, 1 DW/D
4KB Random Read IOPS
3,000,000
4KB Random Write IOPS
264,000
Seq Read BW (MB/s)
17,800
Seq Write BW (MB/s)
12,100
Max. Drives
24 x 2.5" SSDs
Drive Interface
12 GB/s SAS or 6 GB/s SATA
Available SSD Capacities
SAS (1DW/D): 3.84TB, 7.68TB
SATA (0.6DW/D): 960GB, 1.92TB
Host Interface
1+1 I/O Modules (IOM), 3 Mini-SAS HD ports per IOM
Management
SCSI Enclosure Services
LED Indicators
Front/Rear: Power, ID, Fault
Drive: Activity, Fault
Physical Dimensions
Height: 87.4mm (3.44")
Width: 446mm (17.56")
Depth: 536mm (21.1")
Weight
Product without SSDs: 18.3kg (40.3lbs)
Product with 24 SSDs: 23.7kg (52.3lbs)
Power
1+1 600W, 80+ Gold
90-264V AC input, auto ranging, 47-63Hz
Cooling
3 fan modules per power supply, front-to-rear system cooling
Fan speed turning via system management interface
Serviceability
Hot-swappable IOM, power supply and SSDs
Environmental
Operating Temperature: 5 to 40°C
Non-op Temperature: -40 to 60°C
Humidity: 5 to 85% relative humidity
Operating Altitude: 40°C @ 3,000ft
Sound Power: < 7.2Bels @ 23±2°C
Endurance
Read-Intensive, 1 DW/D
4KB Random Read IOPS
4,700,000
4KB Random Write IOPS
528,000
Seq Read BW (MB/s)
23,000
Seq Write BW (MB/s)
23,000
Max. Drives
24 x 2.5" SSDs
Drive Interface
12 GB/s SAS or 6 GB/s SATA
Available SSD Capacities
SAS (1DW/D): 3.84TB, 7.68TB
SATA (0.6DW/D): 960GB, 1.92TB
Host Interface
1+1 I/O Modules (IOM), 3 Mini-SAS HD ports per IOM
Management
SCSI Enclosure Services
LED Indicators
Front/Rear: Power, ID, Fault
Drive: Activity, Fault
Physical Dimensions
Height: 87.4mm (3.44")
Width: 446mm (17.56")
Depth: 536mm (21.1")
Weight
Product without SSDs: 18.3kg (40.3lbs)
Product with 24 SSDs: 23.7kg (52.3lbs)
Power
1+1 600W, 80+ Gold
90-264V AC input, auto ranging, 47-63Hz
Cooling
3 fan modules per power supply, front-to-rear system cooling
Fan speed turning via system management interface
Serviceability
Hot-swappable IOM, power supply and SSDs
Environmental
Operating Temperature: 5 to 40°C
Non-op Temperature: -40 to 60°C
Humidity: 5 to 85% relative humidity
Operating Altitude: 40°C @ 3,000ft
Sound Power: < 7.2Bels @ 23±2°C
Highlights
Up to 24 Ultrastar 2.5" SAS or SATA SSDs with a range of capacity options
Connect up to six hosts via the 12 Gb/s SAS-3 interface
Up to 4.7M IOPS, 23 GB/s; <1 ms latency
Enterprise-class high availability: hot-swappable SSDs, I/O modules, and PSUs (integrated fans)
Easily maintained, SSD modules are front accessible and hot swappable
5-year limited warranty
Applications and Workload
SDS Environments
High-Performance Computing
Public or Private Cloud
Analytics
Database
Virtualization
Scale-Out/Up Configurations